GRI: [G4‑12]
Suppliers
The supply of raw materials necessary for production is not only a matter of ensuring continuity of the supply chain, but also a key element of the integrated purchase strategy of the Company. Most of the products offered by us require specialist, often difficult to access raw materials and the profitability of our production is highly dependent on the costs.
Supply Chain
RSPO
Implementation of RSPO guidelines in the Company allowed for balanced use of raw materials produced on the basis of certified palm oil, and for the tracking of their flow through the entire supply chain. We now have a Mass Balance (MB) certificate. This allows us to sell surfactants manufactured on the basis of palm oil and its derivatives, thus contributing to the raw material identification process. Monitoring of quantities of the used palm oil and its derivatives in the MB variant is carried out on the basis of a mass balance which includes a record of inputs of raw materials and finished product outputs, after conversion by specific consumption factors resulting from the production technology of a given substance.
We consistently follow the guidelines of the Roundtable on Sustainable Palm Oil (RSPO).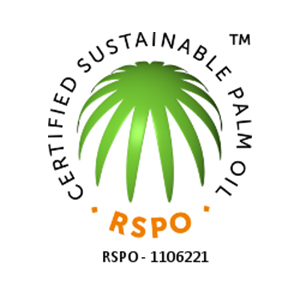 The RSPO strategy is to transform the market to become the norm for the use of ecological palm oil throughout the supply chain, from plantations, through presses, refineries and chemical producers, to finished products going to end users. In connection with this concept, as a producer of chemicals, we use palm oil from certified growers and suppliers in our production.
SUPPLY CHAIN ON THE EXAMPLE OF PALM OIL